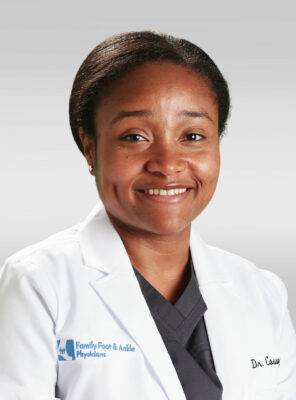 EDUCATION
Undergraduate degree in Biology and Chemistry from Mount Holyoke College
Doctorate degree from Kent State University College of Podiatric Medicine
RESIDENCY
Bridgeport Hospital/ Yale New Haven Health in Connecticut with concentrations in Limb salvage, foot and ankle trauma, wound care, and deformity correction of the lower extremities.
JOINED FAMILY FOOT & ANKLE PHYSICIANS
SPECIALTIES
Diabetic Limb Salvage
Charcot Neuroarthropathy
Foot and Ankle Trauma
Deformity Correction of the Foot and Ankle
Medical and Surgical Pathologies of the Lower Extremities
PROFESSIONAL MEMBERSHIPS
Associate Member of American College of Foot and Ankle Surgeons
American Podiatric Medical Association
American College of Podiatric Medicine
Yale Surgical Society
SUMMARY
Dr. Cossoguë received a comprehensive training in foot and ankle surgery while focusing on limb salvage, wound care, and trauma of the foot and ankle. She has published in scientific journal for surgical techniques in foot and ankle surgery. She currently works in private practice in Greenville and is a podiatric surgical consultant for ECU health. Dr. Cossoguë lives in Greenville and is fluent in French and Creole.