How Do You Stop Amputation?
Limb salvage involves removing dead tissue and replacing damaged bone so that the entire limb doesn't have to be removed and can function properly. Limb salvage involves removing dead and diseased tissue and bone and implanting artificial parts and bone grafts to replace them. Diabetes doesn't just impact your body's ability to produce insulin. Over time, this chronic condition also affects your circulation and immune system, negatively impacting your body's ability to heal. Fortunately, conservative, integrated methods of care can prevent up to 85% of diabetes-related amputations.
Family Foot & Ankle Physicians uses a multi-disciplinary approach to amputation prevention, coordinating care between vascular surgeons, podiatrists, reconstructive microsurgeons, and other specialists to assist people who are at risk of leg and foot amputation.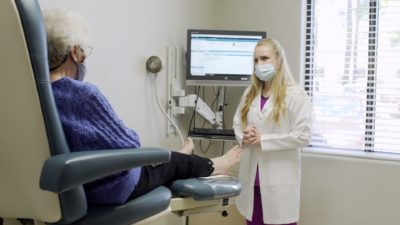 Who can Benefit from Amputation Prevention?
Anyone with diabetic ulcers or slow-healing wounds can benefit from amputation prevention. This includes people with peripheral arterial disease (PAD), ischemia associated with diabetic small vessel disease, and diabetic peripheral neuropathy.
Family Foot & Ankle Physicians specializes in the diagnosis and treatment of non-healing wounds affecting the feet, legs, and ankles, and develops custom treatment plans that prevent further damage and improve their patients' overall quality of life to avoid complications and amputation.
When Should I Schedule an Appointment with an Amputation Prevention Specialist?
If you have diabetes or a weakened immune system, any slow-healing wound is cause for concern. However, it's particularly important to schedule an appointment at Family Foot & Ankle Physicians for amputation prevention if your foot or leg ulcer is:
Red or swollen
Surrounded by black, dead skin
Painful or irritated
You should also make an appointment with Family Foot & Ankle Physicians if you've had an amputation in the past, or you've been told that you might need an amputation in the future.
Why Would I Need an Amputation?
Your feet undergo significant wear-and-tear on a daily basis. It's common to stub your toe, get a cut, or step on a foreign object. However, if you have diabetes, these issues can turn into more serious problems. In fact, diabetes increases your risk of many serious foot-related health problems, including:
Nerve damage (neuropathy)
Poor circulation
Gangrene
Infections
Charcot foot
In addition, it's estimated that 25% of people with diabetes will develop a foot ulcer during their lifetime. The longer a wound remains untreated, the more likely it is to become infected and cause more serious problems. By regularly examining your feet and always wearing shoes and socks, you can significantly lower your risk of future issues.
If you're living with diabetes and you're concerned that you've developed an infection, don't wait to seek professional help.
Family Foot & Ankle Physicians has a primary location in Greenville, servicing cities such as Greenville, Farmville, Ahoskie, Kinston, Winterville, Tarboro, New Bern, Edenton, Washington, Rocky Mount, with patients coming from throughout eastern North Carolina and beyond.  To request your appointment, call our Greenville office today, talk to your doctor about a referral or use the online booking tool to schedule your visit.