SPECIALIZED PODIATRY SERVICES
Is foot or ankle pain holding you back from the activities you love?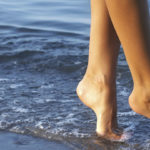 Welcome to Family Foot & Ankle Physicians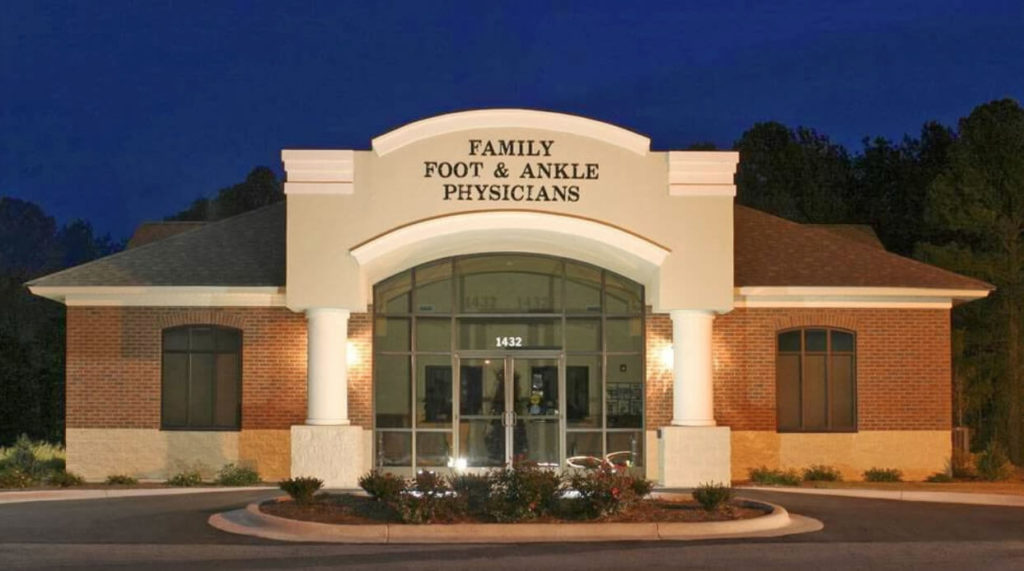 At Family Foot & Ankle Physicians in Greenville, NC, our number one priority is to deliver quality foot and ankle care to each and every one of our patients.
Throughout the process, we ensure that our patients are well informed and comfortable, knowing that they are in the hands of professionals. When you are experiencing pain or different issues with your feet, you can always trust our experienced podiatrists. With their firm podiatry knowledge and surgical experience, they are here to properly and effectively diagnose and treat your foot and ankle needs.
When you choose us, you are choosing compassionate and professional podiatrists that are always working to improve our abilities so we can serve you better.
Most Common Foot & Ankle Issues
Visit us today so we can not only treat these issues, but also show you how to avoid common issues throughout your life.
We provide medical and surgical treatment of:
Disease-related

Foot ailments caused by diabetes, impaired circulation, infections.

Nail and Skin Infections

Ingrown toenails, plantar warts, athletes foot, toenail fungus.

Acquired Abnormalities

Heel pain, tendinitis, foot deformities that slowly develop over time such as bunions, corns, hammertoes, and plantar fasciitis.

Injuries

Sports or accidental injuries of the feet and ankles, particularly to the soft tissues, tendons, and bones.

Congenital Defects

People born with club feet, flat feet, in-toeing (sometimes known as pigeon toes), and other abnormalities.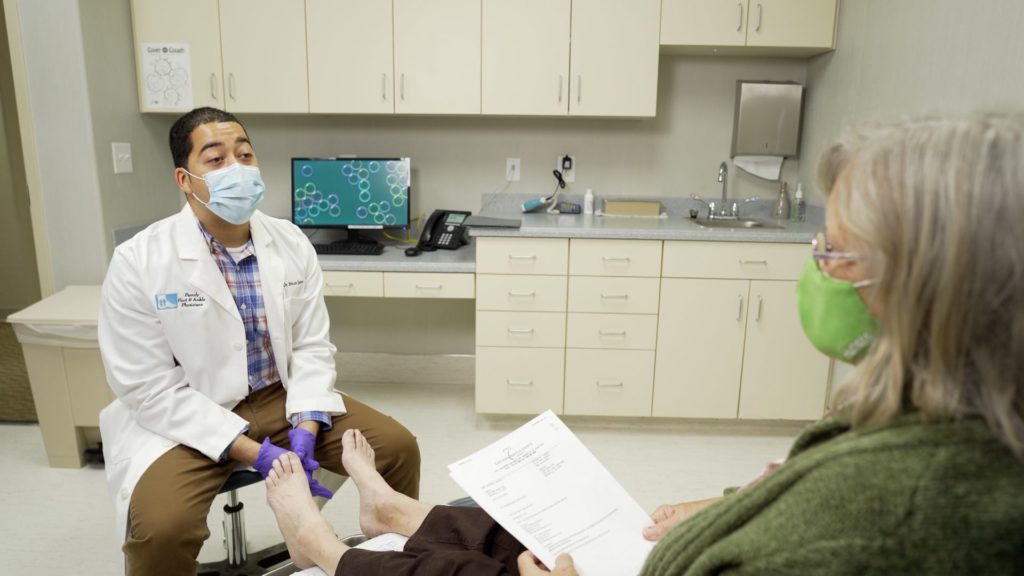 Experienced Podiatrists
Our Doctors, medical assistants and assistance, administration, client information specialists, and financial departments work closely together to ensure the smoothest, easiest experience for you as possible. Our goal is to keep you comfortable, pain free, and without stress. Questions? Feel free to call us or visit us today!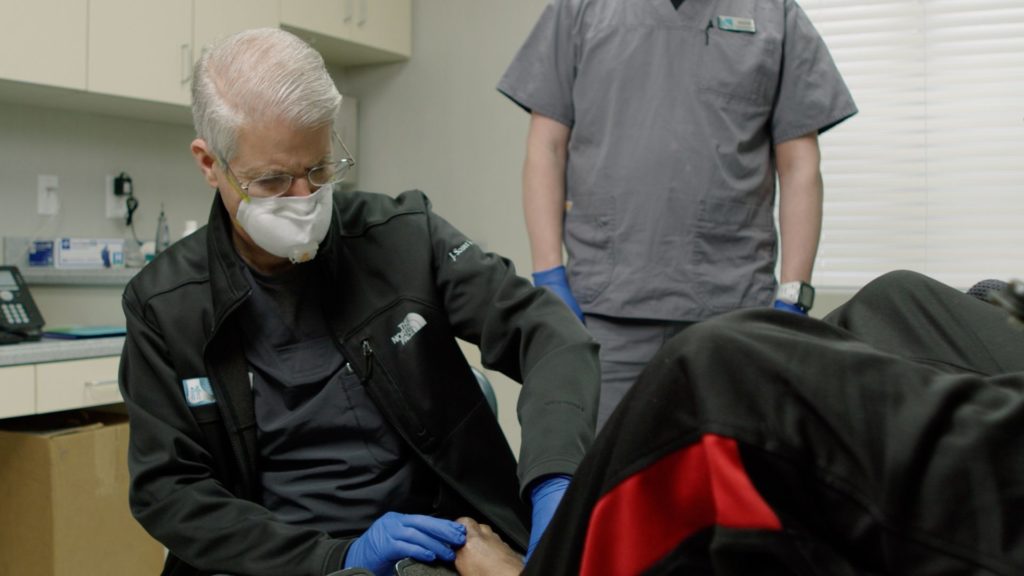 Foot & Ankle Care
Did you know that up to 75% of people experience foot issues? This is no surprise, considering that our feet take us an average of over 70 thousand miles throughout our lives! Issues are not just caused by lifetime use, but also from ill-fitting shoes, hard floors, fungus, and a multitude of other issues.

Visit us today so we can not only treat these issues, but also show you how to avoid common issues throughout your life.
Top-Rated Podiatrists in Eastern NC
Read what some of our satisfied customers have to say.
The nurse and doctor were so nice and professional and showed so much concern about me.
Very knowledgeable clinical staff, prompt and organized office staff and Dr Pitzer was amazing. Very nice, listened to my concerns and came up with a treatment plan.
No better place anywhere in Greenville NC if you have foot problems! Thoroughly professional and caring physicians and staff! Particularly Like the fact that I can always see the Doctor of my choice each visit! Again, simply the best! Dr Pitzer is just the best, in my view!
My visit to family foot and ankle physicians was outstanding. DrJones and nurse were extremely friendly and helpful.
I was well taken care of, and everyone at the office are caring and professional.
All I can say is, Wow! What a great place to go for foot pain. Dr. Jones is so smart & so personable. The ladies in the office are so nice & courteous. I have told so many people about this practice. I am a lifetime patient!!
Everyone is so caring and I just adore Dr. Stancil and the staff.
They make you feel comfortable from walking into the front door, to the checkin window to seeing your wound nurse and the doctor you are so well care for. I would recommend anyone who needed any foot care at all to receive it there. The doctor explains everything that you are able to understand and very complete with his exam. I felt like I was in the best hands to care for my wound and it's healing.
First visit was referral from my podiatrist. Very pleased with Dr. Chen and staff. Would definitely recommend!
Post discharge-FU for loved one.Everyone encountered were very kind, pleasant, and professional.
Excellent staff and physician, Dr. Pitzer, Did not rush me and gave me both conservative and surgical options for my condition . Wife saw doctor.FYI waiting room too claustrophobic!
Awesome Dr.s And wonderful staff.
Very quick and very sure of what's going on
They were amazing woman very respectful and clear on what to do
Dr.Chen and staff are great.If you need your foot worked on ,Dr.Chen is the one to pick. Very nice person!!!! I had my big toes nail removed. He is good at what he does.
Always nice and friendly, Dr.Chen saved my foot and would recommend him to the good lord himself
Very good visit Dr Jones found the problem with my foot after a few test. Dr Jones gave me a injection in my foot & I should improve in a few days.
I was very pleased with my first visit to Dr. Pitzer. Her staff was courteous and would definitely recommend using thier office.
This is the place that helps with a foot or ankle injury.
This was an excellent first time vist. Dr. Richard Shultzaberger was very kind ,professional and knowledgeable.Thank you for all your help and care.Sincerely Frances N.
So grateful to Family Foot and Ankle ... thankful for thekind greeter, receptionist,assistant, and being seen by Dr. Stancil. The compassion and care shown continues to impress me, so thank you all!
Dr Jones and his staff were very professional and knowledgeable. I recommend them to anyone.
After visiting the er with my daughter I was given the contact information for this office to schedule a follow up. I was able to get an appointment the day after calling. There was no wait time once arriving, everyone was very pleasant and even for a procedure we were out pretty quick. I definitely recommend this location.
The staff are all A + ! The service is second to none !
The best for getting back on your feet.
Dr Pitzer was very knowledgeable and has a great sense of humor. She makes you feel very at ease. The entire staff gets an A+.
I recommend Family Foot & Ankle Physicians to anybody I'm talking to and tell me they're having feet trouble,These folks do a great job.
Very prompt, professional & friendly doctor & staff! Great first appointment for my daughter!
Excellent Service I would give 10 stars.
This office should be a model for any medical office about how a medical office ought to run. Every staff member I met from checking in to all levels of staff are outstanding. I need to add that the assistant and doctor were both superlative. Despite a heavy load and running behind schedule, they were not rushed and did all I expected and more. Thanks to a great group of friendly, caring, and professional caregivers. I should especially note Cecilia & Dr. Pitzer.👏
Awesome experience. They have never disappointed. No pain, in and out. Healing was fast and painless.
They were a little behind other than that everything was very fine 🙂
Dr Pitzer and her associate were wonderful. Had an ingrown toenail removed she was very delicate and calming. Would definitely recommend
I always have a positive experience here. The staff is friendly and knowledgeable.
My experience was fantastic today. The people are very kind and pleasant to talk with. The service was the best.
Clean, knowledgeable , professional, and prompt
Very pleasant experience. Always upfront with you.
My visit was very informative and I received several options for treatment. Looking forward to my next appointment.
Patient friendly; was greeted and provided care with a smile from the door throughout the visit!!!
Amicable and helpful staff. The Dr. answered all my questions and took her time with me.
This place is awesome. They treat their patients like family. Very professional and to the point. 100 % recommend!