SPECIALIZED PODIATRY SERVICES
Is foot or ankle pain holding you back from the activities you love?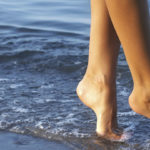 Welcome to Family Foot & Ankle Physicians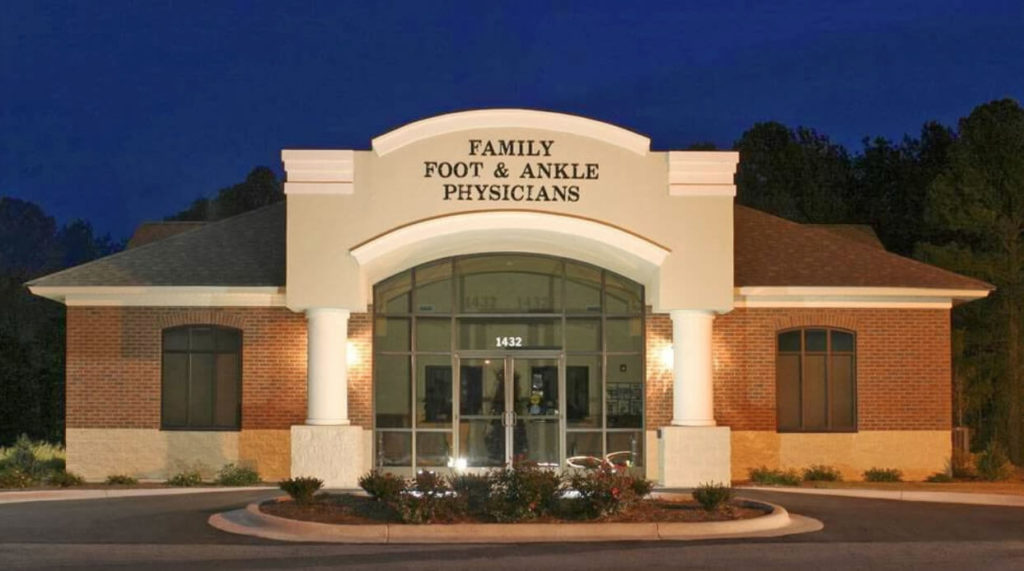 At Family Foot & Ankle Physicians in Greenville, NC, our number one priority is to deliver quality foot and ankle care to each and every one of our patients.
Throughout the process, we ensure that our patients are well informed and comfortable, knowing that they are in the hands of professionals. When you are experiencing pain or different issues with your feet, you can always trust our experienced podiatrists. With their firm podiatry knowledge and surgical experience, they are here to properly and effectively diagnose and treat your foot and ankle needs.
When you choose us, you are choosing compassionate and professional podiatrists that are always working to improve our abilities so we can serve you better.
Most Common Foot & Ankle Issues
Visit us today so we can not only treat these issues, but also show you how to avoid common issues throughout your life.
We provide medical and surgical treatment of:
Disease-related

Foot ailments caused by diabetes, impaired circulation, infections.

Nail and Skin Infections

Ingrown toenails, plantar warts, athletes foot, toenail fungus.

Acquired Abnormalities

Heel pain, tendinitis, foot deformities that slowly develop over time such as bunions, corns, hammertoes, and plantar fasciitis.

Injuries

Sports or accidental injuries of the feet and ankles, particularly to the soft tissues, tendons, and bones.

Congenital Defects

People born with club feet, flat feet, in-toeing (sometimes known as pigeon toes), and other abnormalities.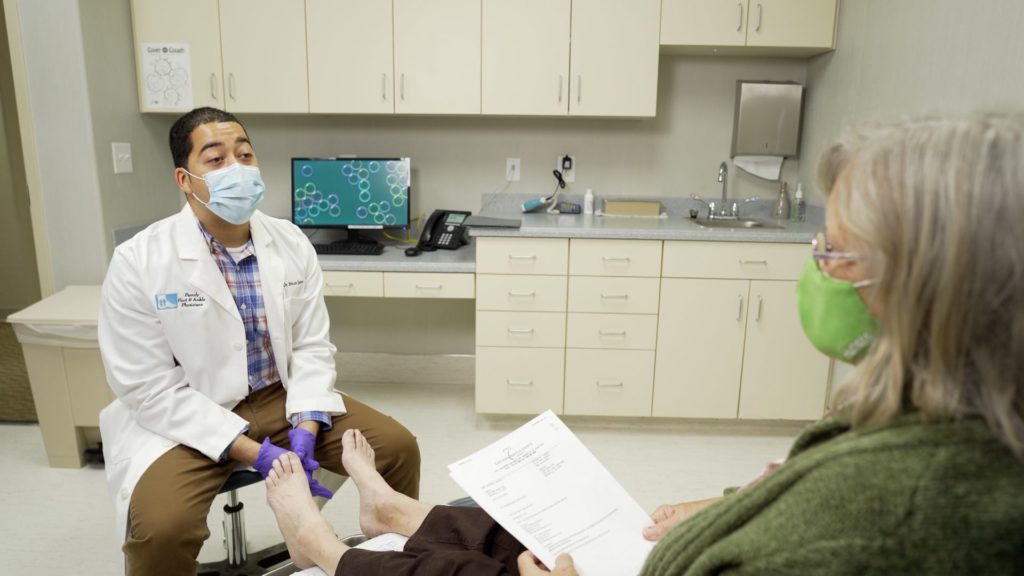 Experienced Podiatrists
Our Doctors, medical assistants and assistance, administration, client information specialists, and financial departments work closely together to ensure the smoothest, easiest experience for you as possible. Our goal is to keep you comfortable, pain free, and without stress. Questions? Feel free to call us or visit us today!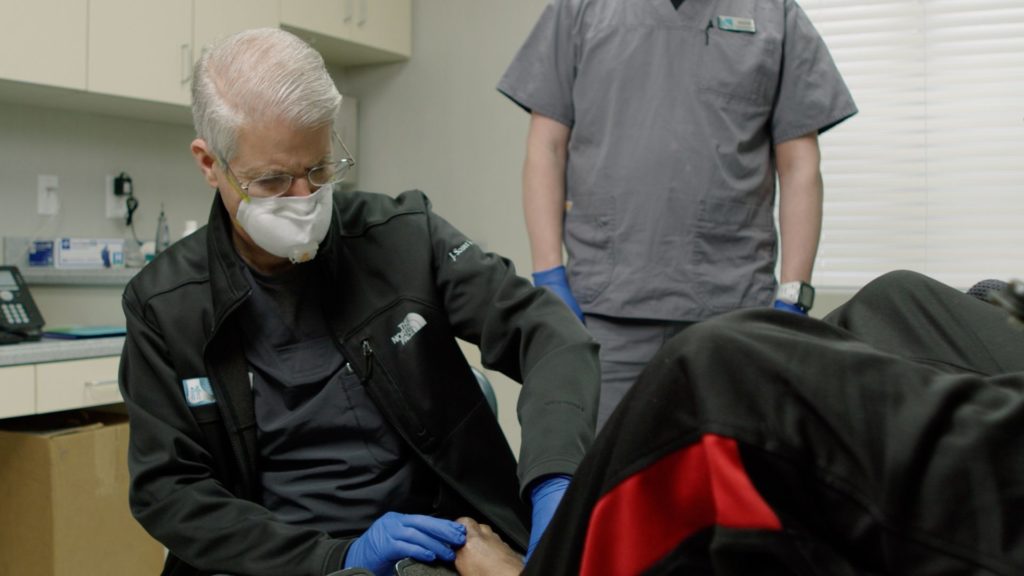 Foot & Ankle Care
Did you know that up to 75% of people experience foot issues? This is no surprise, considering that our feet take us an average of over 70 thousand miles throughout our lives! Issues are not just caused by lifetime use, but also from ill-fitting shoes, hard floors, fungus, and a multitude of other issues.

Visit us today so we can not only treat these issues, but also show you how to avoid common issues throughout your life.
Top-Rated Podiatrists in Eastern NC
Read what some of our satisfied customers have to say.
Dr. Stancil is a excellent doctor. I love the care that I receive there.
Today was my third time going to family foot and ankle and I can honestly say every time that I have been, I have received the best care and treatment from my podiatrist (Dr.Jones). Dr. Jones is excellent and knowledgeable at his profession. He listens to my concerns and has treated them accordingly. I could not ask for a better person! Thank you so much for the wonderful service!
ABSOLUTELY LOVE DR. CHEN AND THE ENTIRE STAFF!!!
This is the best expirience at a clinic i ever had the people are friendly and caring Dr chen is the best and his staff go out of their way to provide comfort and hospitality , Heather , Jennifer and Dee were all very pleasant to me i couldn't ask for more , Thank you !
Very Fast, no waiting time
Answered all my questions staff polite courtesy
Staff very kind and efficient. Dr Chen very informative about the treatment I needed.
The staff was very caring and efficient. The wait time wasn't bad at all. It's nice that they offer Saturday appointments so I didn't have to miss work. It was a wonderful experience and I appreciate the care and attention that I received.
Wonderful every time.So nice the people.
The staff are great and treat you like a person not a number. Dr. Stancil performed my foot surgery and he not only did a great job but didn't have to nearly as much as we thought. Today he explained everything and repeatedly asked if we had more questions. He is one of the best doctors you could ask for.
Always efficient and pleasant. Dr Chen rocks!
Doctor Rick Chen is Amazing 😍❤️ he does great work my feet look Great 😃 I thank him and his team as well!!!
I would just like to say that this was my first visit to this office. I was referred to this office by my parents who have both been cared for at this office. As a new patient I expected an extremely long wait time as the standard practice in most medical facilities I have ever visited. So I pulled into my parking space. I called the number to let them know that I am here for my appointment. My appointment was at 9 AM and I was calling the office at 9 AM. The young man that answered my call explained to me that he would be out to the jeep momentarily with my new patient forms and that the front desk would call me as soon as they were prepared to take me back. As I alluded to before I expected this to be an extremely long wait. With in 45 seconds of me starting to fill out the form and making it to line number 3 I received a call from the front desk to come in. Here's where it gets really interesting. My younger employees have educated me on the use of Apple Pay. Guess what? I left my wallet at the house. Just so happens that Humana, my insurance carrier, happens to allow you to attach your insurance card to your Apple Pay. The lovely lady at the front desk, Without hesitation proceeded to find a solution to my dilemma. What a novel concept. Treating the patient as if they are actually a customer. I explain to her I had information in my phone and she proceeded to get my insurance information and allowed me to pay my co-pay with Apple Pay. Immediately there after my lovely nurse Sam took me back and proceeded to get my patient profile completed on her system as I completed the paperwork for the office. Here's where I say this office gets five stars. Every doctors office I have ever attended insist that you fill out this paperwork before you go back to a room. The wisdom in the way this office is run, that allows a customer to complete their paperwork as the nurse completes hers, is a novel concept. Especially considering that the answers are the same on my forms and the ones that the nurse has to complete. I completed my forms and she completed her questionnaire simultaneously. After that within three minutes I was in x-ray and within seven I was back in the room waiting on Doctor Jones to come in and for us to discuss treatment options. When he arrived he actually examined both of my feet and together we determined a treatment option. He was very personable but extremely professional. He made me very comfortable with the treatment that I was receiving and exactly how he was going to execute it. Why would I refer you to this office you may ask? It's simply this: As a new patient I completed all of my paperwork, they completed their patient intake process, My x-rays were completed, I actually got to spend valuable time with my care provider before my treatment, received my treatment, and scheduled my next appointment all in a shorter time then I would normally get to a room in any other practice that I have ever visited. Now I'm a realist so let me say this. The type of service that I received would almost be virtually impossible to maintain at their patient load. However, you can tell by the attitude of the employees from the time you hit the door till you see the doctor that it is paramount that the customers time is as valuable as the doctor's that you are seeing. that simply says that this practice genuinely cares for the health of its patients first They get a well deserved⭐️⭐️⭐️⭐️⭐️I almost forgot, I called back after my visit and ask if they had a patient portal and the lovely lady that I spoke with verified that their website did have a gateway and actually emailed me the link to the gateway so I could see my own patient portal. top-notch service even after I left the office. 👍
Dr. Jones and This office staff have been the absolute best! I am so glad my primary referred me to them!!
No better place anywhere in Greenville NC if you have foot problems! Thoroughly professional and caring physicians and staff!
Very professional. Takes time to answer questions. Recommeded.
I have a great deal of trust with the professionnalism and experience of the Dr's and staff at Family Foot & Ankle. I would recommend them highly. Thank you.
I always enjoy my visit to Family Foot and Ankle Physicians. Everyone is Friendly, and they make you at feel at home. I would say they are the #1 medical office in the Greenville area for making You feel welcome and that You are number one by addressing your issue quickly and thoroughly. Dr. Pitzer is a phenomenal physician and always solves my issues.
They keep their appointments on time and the every time I have been, not much sitting in the room waiting. Great staff
Very good visit Dr Jones found the problem with my foot after a few test. Dr Jones gave me a injection in my foot & I should improve in a few days.
Doctor Jones is great and the staff is courteous and efficient.
They were a little behind other than that everything was very fine 🙂
Awesome staff great service 👍
theyre so nice here!! and i definitely recommend it here, they're super quick with removing ingrown nails and made it pain free! I had Dr.Jones, recommend him!
I was very satisfied and I love the compassion that Dr. Amy Pitzer has for her patients.She is so passionate with her patients I love her she is #1 🥰 Dr. Pitzer is a very caring and lovable person who I appreciate her uniqueness and her exceptional personality I truly love and admire her heartfelt and expertise as a foot doctor she shows much love to her patients May God continue pour out Blessings on her behalf I would recommend Dr.Amy Pitzer to anyone who needs caring and sincere foot doctor
My visit was excellent & fast.
Dr's & Staff are very friendly, very informative.
Convenient with work schedule. Very friendly and professional. Clean facility. Very nice receptionist.
The best Podiatrist in Greenville!Patient, Friendly, and Caring!
Dr. Stancil is so nice, understanding and accommodating.
Excellent experience! Staff is friendly, accommodating and competent. We're new to the area. This medical team is a great find! Second visit...still very impressive. We're totally comfortable with Dr. Chen and his team!