SPECIALIZED PODIATRY SERVICES
Is foot or ankle pain holding you back from the activities you love?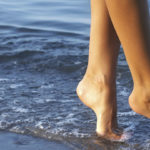 Welcome to Family Foot & Ankle Physicians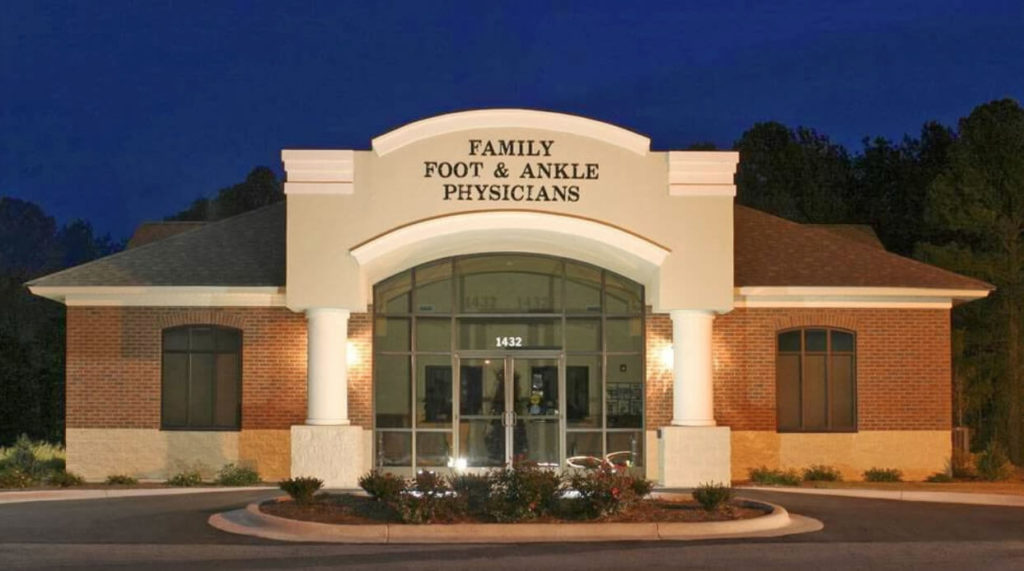 At Family Foot & Ankle Physicians in Greenville, NC, our number one priority is to deliver quality foot and ankle care to each and every one of our patients.
Throughout the process, we ensure that our patients are well informed and comfortable, knowing that they are in the hands of professionals. When you are experiencing pain or different issues with your feet, you can always trust our experienced podiatrists. With their firm podiatry knowledge and surgical experience, they are here to properly and effectively diagnose and treat your foot and ankle needs.
When you choose us, you are choosing compassionate and professional podiatrists that are always working to improve our abilities so we can serve you better.
Most Common Foot & Ankle Issues
Visit us today so we can not only treat these issues, but also show you how to avoid common issues throughout your life.
We provide medical and surgical treatment of:
Disease-related

Foot ailments caused by diabetes, impaired circulation, infections.

Nail and Skin Infections

Ingrown toenails, plantar warts, athletes foot, toenail fungus.

Acquired Abnormalities

Heel pain, tendinitis, foot deformities that slowly develop over time such as bunions, corns, hammertoes, and plantar fasciitis.

Injuries

Sports or accidental injuries of the feet and ankles, particularly to the soft tissues, tendons, and bones.

Congenital Defects

People born with club feet, flat feet, in-toeing (sometimes known as pigeon toes), and other abnormalities.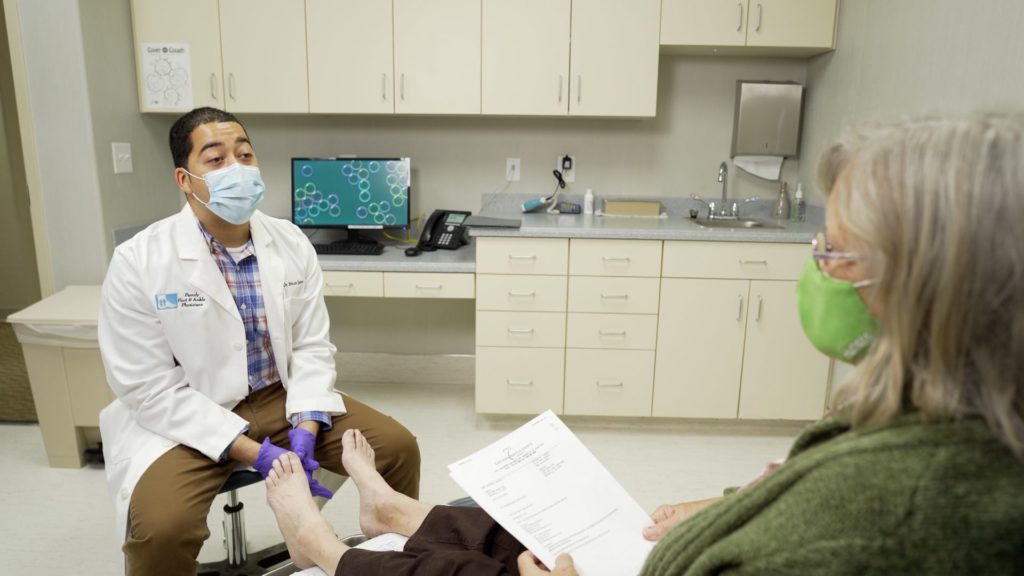 Experienced Podiatrists
Our Doctors, medical assistants and assistance, administration, client information specialists, and financial departments work closely together to ensure the smoothest, easiest experience for you as possible. Our goal is to keep you comfortable, pain free, and without stress. Questions? Feel free to call us or visit us today!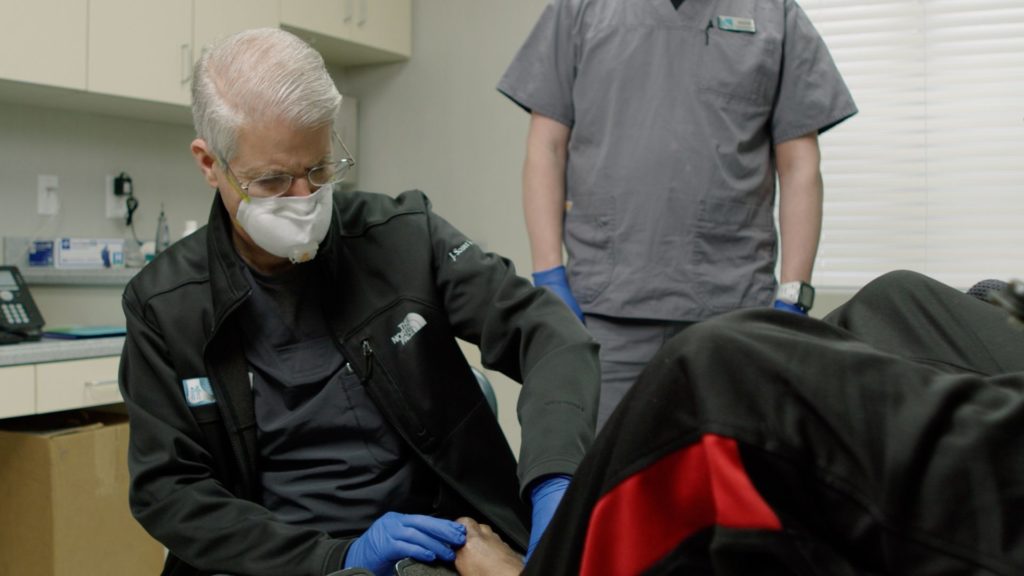 Foot & Ankle Care
Did you know that up to 75% of people experience foot issues? This is no surprise, considering that our feet take us an average of over 70 thousand miles throughout our lives! Issues are not just caused by lifetime use, but also from ill-fitting shoes, hard floors, fungus, and a multitude of other issues.

Visit us today so we can not only treat these issues, but also show you how to avoid common issues throughout your life.
Top-Rated Podiatrists in Eastern NC
Read what some of our satisfied customers have to say.
Since I have been going to Family Foot and Ankle I have been quite pleased.
Everything was great and the nurses were so nice
They are the best. Saved me from amputation
This place is AWESOME ! If you need a foot doctor they are Great ! Dr Pitzer, Dr Chen & Jerrod see me,and they have helped me BIG TIME !🌟🌟🌟🌟🌟
My husband (Jessie Jones) has seen Dr Brian Jones for about a year now. It is hard to find doctors he truly likes...Doc "B" as Jess calls him is one of those few! He and his nurse "Q" are off the chain! There customer service and patient care are on point. We could not find better service anywhere in NC. Hats off to them and the entire staff.
Excellent services they takes pride in what they do thanks
Dr. Srancil and staff are great! Very professional and caring!
Outstanding service for my feet. Always feel good when I leave. Checkout is fast and very convenient. Always look forward to my appointment. The staff works very hard to see to it that you are comfortable and relax. I give them an A+
I love love love this place!! I initially saw Dr Chen at Vidant wound clinic. Then I had 2 toes ampuated n started seeing Dr Leshikar at FF and A. He is good at what he does n knows his stuff! ALL of the doctors are phenomenal and listen to their patients, well me anyways😂. His nurse Jarrod is excellent at his job as well. If you have a wound or need your toenails clipped, I highly recommend them!! Pictures are more than a thousand words...you be the judge
I just love my Dr. Stancil. He is a boat load of fun. He treats his patients with respect. He is just good overall 🤣😊🙏❤️💙. You got to love him!!! He takes real good of my feet 🐾. Thank You Doc Stancil.
Dr Scott Stancil has been my orthopedics Dr for 15+ years and I wouldn't change it for nothing in the world. His staff is great and I'll recommend them over anyone!
Always a pleasant visit... Great customer service!
It was a very pleasant experience for my dad. The staff was so nice and helpful. Dr. Brian Jones was so helpful, nice, and professional! Great great "bedside manners" and made my dad feel very glad Dr. Jones worked and examined him. Very pleased!
Great people to work with.
My daughter took my 90 year old father for his appointment today . She called me on the way home to tell me how much she liked the Dr. she said she was so good with pop and went above and beyond to care for him also tending to another need as well.
The service was very good. They had patience with you and was very pleasant.. you don't have to sit in the office all day They are very timely.I will return.
The doctor always keep me going and make sure that I'm feeling great
Excellent patient care..friendly staff..
5 star service from check in, nurse and Dr and check out. Great staff, excellent care!
Dr Amy is the BEST! Professional and friendly!