Dr. Anne S. Cossoguë joins Family Foot and Ankle Physicians.
Dr. Cossoguë began treating patients on August 1, 2023 right after her successful residency was completed at Bridgeport Hospital/ Yale New Haven Health. Dr. Cossoguë is a highly accomplished podiatric physician with a robust background in medical and surgical pathologies of the lower extremities. Known for her dedication and excellence, she brings her specializations in diabetic limb salvage, Charcot Neuroarthropathy, foot and ankle trauma, and deformity correction of the foot and ankle to her thriving practice.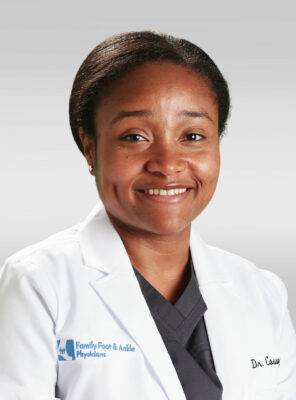 Academic Accomplishments:
Residency and Specialized Training:
Completed a rigorous residency at Bridgeport Hospital/ Yale New Haven Health in Connecticut, during which she concentrated on:

Limb salvage
Foot and ankle trauma
Wound care
Deformity correction of the lower extremities
Professional Achievements and Memberships:
Board-qualified in Foot and Rearfoot and Ankle Surgery by the American Board of Foot and Ankle Surgery, attesting to her proficiency in her field.
Esteemed member of several professional bodies including:
Research and Publications:
Contributed to the scientific community through publications on surgical techniques in foot and ankle surgery, further demonstrating her commitment to advancing knowledge in her field.
Current Professional Endeavors:
Practicing privately in Greenville, providing top-notch care to her patients.
Serving as a podiatric surgical consultant for ECU Health, advising on complex cases and contributing her expertise.
Personal Details:
Fluent in French and Creole, bringing a culturally diverse perspective to her medical practice.
Resides in Greenville, making her well-acquainted with the community she serves.
Dr. Cossoguë's dedication to her profession, passion for patient care, and pursuit of continuing education make her a valuable asset to the medical field. Her proven expertise in dealing with complex podiatric conditions continues to benefit her patients and contribute to her distinguished career. Book an appointment with Dr. Cossoguë today on the Family Foot and Ankle Physicians website.
Dr. Cossoguë will spend her time in clinic at Family Foot and Ankle Physicians in both the Foot and Ankle Center and the newly constructed Limb Preservation Center that opened for business on August 2, 2023. Dr. Cossoguë will also spend time rounding at ECU Health Medical Center treating patients.
Family Foot and Ankle Physicians also has a new patient clinic on Saturday mornings from 8:00 am to 12 noon, which Dr. Cossoguë will be added to the rotation to see patients.
Dr. Cossoguë joins a team of dedicated podiatrist at the clinic that has been in practice since 1999. You can learn more about these podiatrists here:
Feedback for Dr. Anne S. Cossoguë can be found on her google profile with Family Foot and Ankle Physicians at any of the following profiles:
Family Foot and Ankle Physicians is excited for the expertise Dr. Cossoguë brings to the practice and certainly hopes the patients she treats will also appreciate her expertise, but most importantly her dedication to the patient and physician relationship.