August 16, 2023
GREENVILLE NC: A grand opening ceremony was held for the Family Foot and Ankle Physicians practice on Fire Tower Road joining the Greenville and Winterville communities in eastern, North Carolina. The ceremony was conducted to celebrate the opening of the practices newest Limb Preservation Center.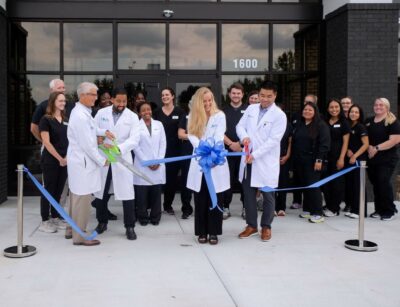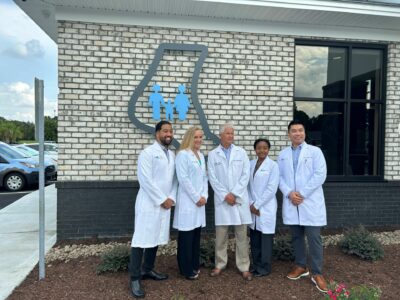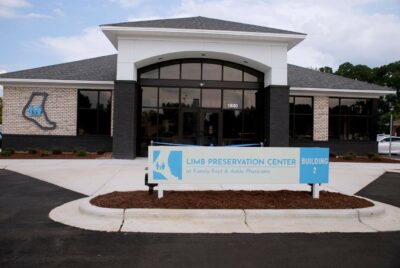 The Limb Preservation Center offers conservative and surgical intervention for patients suffering from complex foot and ankle conditions such as infection, trauma, or tumor pathology, which may lead to amputation if left untreated. The Limb Preservation Center provides access to a multidisciplinary team consisting of vascular surgeons, podiatrists, and wound care nurses; all focused on preserving limbs whenever possible for the patient. FFAP's goal is to improve patient's quality of life by restoring function following a devastating injury or illness.
Wounds and ulcers that are non-healing or slow healing can lead to serious complications. Receiving timely and proper treatment from experienced specialists is critical. Patients with diabetes should take extra care of wounds to reduce the risk of infection and amputation, which is why FFAP needed to bring this new Limb Preservation Center to eastern North Carolina.
FFAP's new Limb Preservation Center will be located next to its existing building for the foot and ankle at 1432 E. Fire Tower Road in Greenville, where FFAP will continue to treat conditions such as bunions, flat feet, routine foot care, fractures, and sprains. The doctors at the practice will rotate to see patients at both locations including the calls on rounds they make at ECU Health Medical Center daily.
"This is an exciting day for the patients of eastern, NC to have a place like this receive treatment. Most wound patients will visit our clinic weekly or bi-weekly and this will make their visit with us so much more pleasant" stated Dr. J. Scott Stancil.
In addition, Dr. Amy M. Pitzer stated, "The ability for us to have more exam rooms and bring in more specialty physician groups will mean less travel to other clinics and allow the patient to be seen for multiple clinical needs while visiting our clinic just once."
The Limb Preservation Center is equipped with thirteen exam rooms making access to care that much easier to be seen by one of the clinic's podiatrists. Dr. Rick C. Chen stated, "We have expanded the size of the exam rooms so that wheelchair bound patients can get into the rooms much easier. We also have 2 rooms in the rear of the clinic where patients being transported to the clinic on stretchers can be mobilized right into a room without having to move off the stretcher, so convenience is going to pay a major role into quicker access and the patients will be more willing to attend their appointment and be seen for their critical care."
Family Foot and Ankle's newest partner in this limb preservation concept, Dr. Brian L. Jones stated, "Family members can attend the appointments with their loved one and feel comfortable moving around the clinic and getting the care they need from our certified wound care nurses and physicians."
Each of the podiatrists with Family Foot and Ankle Physicians is excited to get into a new clinic and provide the care needed to help save a limb for the patient. But one podiatrist that recently moved to eastern North Carolina to help serve as a specialist in the area of limb preservation is Dr. Anne S. Cossoguë who began with the practice on August 1, 2023. Dr. Cossoguë states, "It is imperative to catch a wound in the early stages of infection in efforts attempt to save your leg or foot and if you are diabetic the risk is even higher."
Everyone at Family Foot and Ankle Physicians wants patients to know they are here to serve them and will always work towards an early appointment to be seen by one of their five podiatrists. They are committed to this effort to be available that the Foot and Ankle Clinic is open on Saturdays for new patients that have a harder time getting that time off of work to visit.
For more information about how a patient can begin their journey to limb preservation, please call Family Foot and Ankle Physicians today to make an appointment for a consultation. You don't need to wait until the Limb Preservation Center is open. Let Family Foot and Ankle Physicians help today. You can call 252-439-1150 to make an appointment.